My name is Yoko and I am 16 years old! I love to find great snuggle places around the house and somehow get myself all snuggled in an unmade bed, pile of laundry or whatever I can find! Mom didn't stage this picture - this is how I was when she found me! Happy Caturday and I hope you can find some good snuggle places too.
For more Camera Critters posts around the globe click on the picture here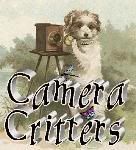 Now for info on the
Pay It Forward
- a for fun version:
I won Pay It Forward when JC from Lilacs and Cats randomly pulled my number.
http://www.jcatmom.blogspot.com/
This is how it goes -
Two winners will receive a sweet little prize of local handmade items that will come in the mail. All that's required is that you have to be willing to
Pay It Forward
.
Here's how to play: I'm going to take the commentors from this post and randomly select one of them. That winner has to be willing to
Pay It Forward
by doing the same on their site.
I just got my
Pay It Forward
gift in the mail on Friday this week.
I had run some errands and came home - walking right by the package. The mailman left it bagged in plastic (we have had torrential afternoon storms) on the edge of my driveway. Don't know why he didn't put it on the porch!
I opened the box and took a photo of the lovely items inside from Washington (sorry I got it wrong the first time JC) - handmade lavender soap, a sweet votive candle holder with several tea candles, a veggie theme cotton dish towel, an organic refillable catnip cat toy which my cats loved, a set funky colorful nail files and some sand dollars from her beach which got a bit smushed in the mail - one did make it here intact!
So, now it's my turn to
Pay It Forward
. If you want to possibly get some spiffy gifts from a far away place or not so far....please put a yes or a I'm in or what ever you would like ... in the comments section of this post.
I will select one name and contact you when I have chosen. So, tell your blog friends about this little giveaway! You need to have a blog to join in.
Just remember, you have to be willing to do the same if you are selected ...
Good Luck!
This contest will end on Sunday night June 21th at midnight Eastern Standard time. I will count the 'Yes, I'm in ' comments on Monday and I will randomly pick one lucky winner. I'll let you know that day.
To get a better idea of what you like, I will look at your blog to see what you might need or want or what I might think you might like. If you have pets, then I will put in a little something for them too!
So, comment away ... !!!!