Happy Birthday to ML - hears cheers to you and thanks for all you do for cats and everyone on Cat Blogosphere!!!!!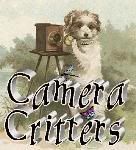 To see more Camera Critters posts click on the picture!
Hi everybody - I'm Darby and my favorite toy is a ribbon! Since it is a rainy day again I am going to play all day.. I like to run around the house with it in my mouth, wrestle with it and bat it around.
Boy I'm pooped from all that playing. Think I'll take a nap! Have a fun weekend!!!