Mom was looking through some old photos and found these of Albert. Al (our soon to be five, blue-eyed deaf cat)has always been very funny about the spots he likes to nap in and finds the most quirky eclectic places to hang out. We had a shop and soup take out restaurant with a full commercial kitchen when he was a kitten. When we were closed he was allowed into the kitchen and we never knew where we would find him - usually sound asleep!
For more great critter photos click on this -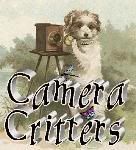 For more pet photos check out http://wingsandpaws.blogspot.com/ or click on the photo in the sidebar!